Awards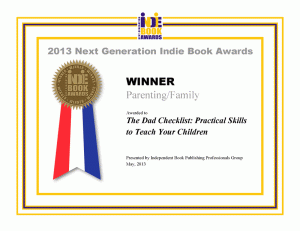 I was pleased to receive a national 2013 Next Generation Indie Book Award. The Dad Checklist won gold in the Parenting/Family category.  In 2014, Independent Publishers of New England selected The Dad Checklist as a Book Award Finalist.
Resources
Click the links for the full version of The Dad Checklist: Camping Gear Checklist rev, a  checklist to prepare for camping trips, as well as additional samples from the book on how to tie a bowline, assemble a first aid kit, cook chili with a special recipe, and make sure you have the right tools in your house.
The Dad Checklist:Bowline Checklist
The Dad Checklist: First Aid Kit Checklist
The Dad Checklist:Chili Checklist
The Dad Checklist: Toolbox Checklist
News
The Dad Checklist Blog Posting AND REVIEW from The PragMatic Mom

The Dad Checklist: To Teach Your Kids Practical Skills

Before my neighbor Jeff renovated his house, I used to see him outside in his breezeway working with saw horses and power tools. I think he was crafting fine furniture which is an unusual skill for a Harvard man . . . With two boys and a busy schedule, Jeff, an attorney, has penned a guidebook on teaching kids handyman skills that typically get passed down from father to son. Or these days, father or mother to daughter.

I asked Jeff a few questions to get the low down on his book: [Full INTERVIEW Here] . . .
What I love about The Dad Checklist is that it is meant for parents who are not handy by gently coaching you in new skills.  Consider this your own private Handyman on Call. Jeff covers other fun topics such as how to tie sailing knots, camping (my kids need this; my husband hates to camp), sports, and science. In short, it's the checklist for teaching "dad-like things" in a beautifully laid out and illustrated book. Use it as a reference, an idea book for weekend projects, or just read it as a fun non-fiction book with your kids. It's versatile like that.
The Dad Checklist BookTalk

Come meet the author, learn to tie some knots, and talk about practical skills to teach children.  Jeff will be at New England Mobile Bookfair, Newton, MA, on Saturday, October 13, 2-4, to talk about The Dad Checklist.  See the flyer.
Reviews
From Bas Bleu Bookseller-By-Post:

". . . this book is packed with good-to-know stuff.  The how-to skills described in these pages include:  tying knots, finding constellations, keeping score in baseball, clearing a stopped-up drain, changing a flat tire, making shepherd's pie, explaining why the sky is blue, and so many more.  Plus, you'll find lots of fun and handy reference lists to study:  names of full moons by month, signature sporting events of the last century, nautical terms, the Greek alphabet, and so on.  Practical and fun to browse.  The Dad Checklist makes an excellent gift for fathers (or mothers!).